Value Engineering in the Signage Industry
Low Cost / High Value
What is Value Engineering (VE) in the Signage Industry?
Value engineering is a methodology that ensures the client does not overpay for quality when an equally valuable less expensive option exists. Product quality is the ultimate goal. Value Engineering is about making the best use of the budget available.
Value Engineering (VE), is a method our team will employ to improve the value of your project by examining the function of each item or element and its associated cost.
The True Meaning of Value Engineering:
You have come up with the concept for an amazing sign and reached out to a group of sign companies for an initial bid but the quotes have come back higher than you expected.
Is now the time to mercilessly "value engineer" your project to get the cost down?
Not necessarily.
When someone says "value engineering" most peoples minds think about cutting out portions or reducing the quality of materials being used. However, that is not necessarily what value engineering should be.
It's important to note that improving the value of your project does not mean cutting costs. It means optimizing the elements of the project through an analysis of all factors such as cost, upkeep, wear-and-tear, aesthetic value, etc.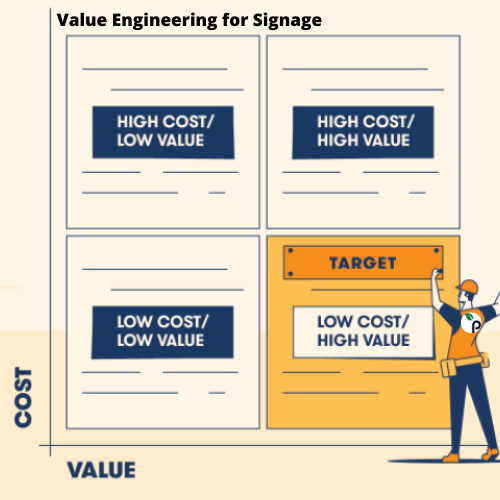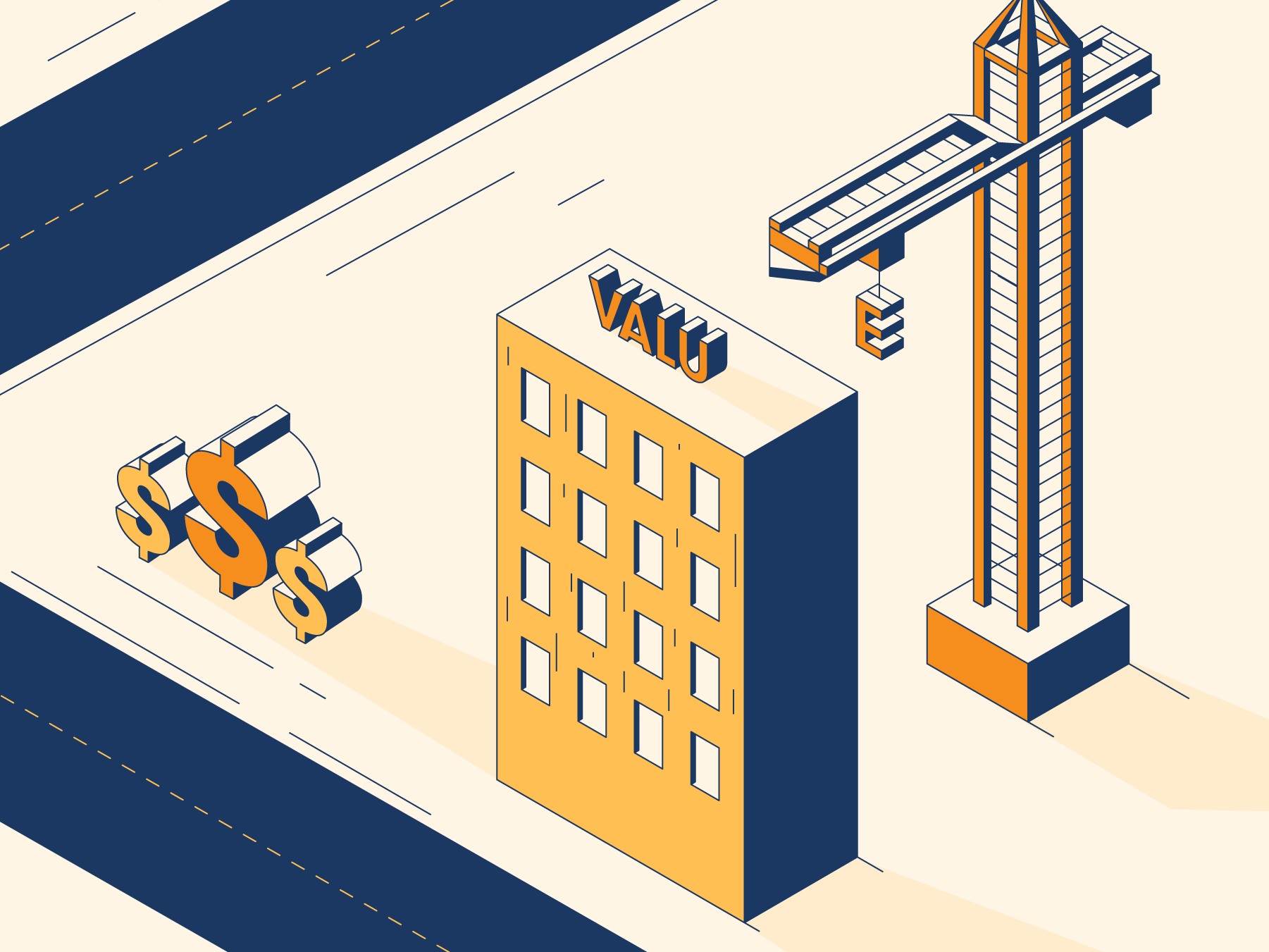 Plumb Signs suggests keeping three key components in mind when choosing to Value Engineer (VE) your signage project.
The right signage vendor will take all things into consideration and find you the best quality options within your budget.
Every signage project is different, as is every client's definition of value. Remember these three things:
Cost Reduction

Quality

Life cycle / Maintenance
Plumb Signs Inc
Defining Value for Your Project
Plumb Signs Inc
Famous Value Engineering Quotes
Cost Reduction
The need to reduce costs are what initially brings many to the concept of Value Engineering and is what drives the process. The value of a product or service is considered to be good when the cost to benefit ratio is favorable. The Plumb Signs VE Team will bring ideas of less costly materials and/or systems to your project for your consideration. But with that said, without the next category we would not be adding value, we would merely be cutting costs. Added quality ensures that the cost-cuts made do not reduce the value of the project.
Quality
Prior to making Value Engineering options you need to consider quality. Quality can mean different things. While some signs or design elements may have a higher cost, they could be justified by the quality that they bring. Quality of the environment you're creating matters as does the products that make up that environment and the team you're choosing to create that environment.
Life Cycle / Maintenance
As with quality, it's important to consider the long-term implications of these value engineering decisions. Your Plumb Signs VE team will help you understand how your buying decisions will impact your long term costs to service and update your signage as necessary over the years to come.
WHEN SHOULD VALUE ENGINEERING TAKE PLACE?
There are four main stages to any signage project. Planning, design, fabrication, and installation. In most cases, the planning stage of your project is the best time to value engineer.
The cost to implement these changes will be the lowest, and it will have the least effect on the project's schedule.
"I don't spend my time pontificating about high-concept things. I spend my time solving engineering and manufacturing problems"
Elon Musk
CEO and Chief Engineer at SpaceX, Tesla Motors
"Design is not just what it looks like or feels like. Design is how it works"
Steve Jobs
Founder of Apple Computers, American business magnate, industrial designer, investor, and media proprietor
"A good scientist is a person with original ideas. A good Engineer is a person who makes a design that works with as few original ideas as possible. There are no Prima Donnas in Engineering"
Freeman Dyson
British-American theoretical & mathematical physicist
"What we usually consider as impossible are simply engineering problems... There is no law of physics preventing them"
Dr. Michio Kaku
professor of theoretical physics, NY Times best-selling author, TV and radio personality, and co-founder of string field theory
"There is nothing I believe in more strongly than getting young people interested in science and engineering"
Bill Nye
Host of Bill Nye the Science Guy, CEO of the Planetary Society, Mechanical Engineer
"Anything which is physically possible can always be made financially possible; money is a bugaboo of small minds"
Robert A Heinlien
American science fiction author, aeronautical engineer, and naval officer
Plumb Signs Inc
Design Services
Do you have a sign project, city art, wayfinding, lighting, or other creative project that you are uncertain where to find help with. Plumb Signs is your turn-key solution! As the greater Seattle areas most trusted design-build sign provider get in touch today to learn what we can do to help with your next project.