Sneeze Guard screens: Sneeze Guard Screens, assemble in seconds, sliding into varying base options with little to no hardware required. Available with or without pass-through slots, the screens are an effective physical barrier against COVID-19. Corners are rounded for safety.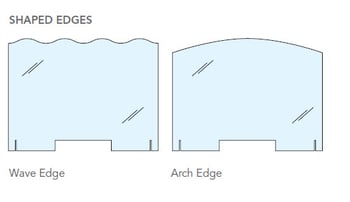 Securing bases to tabletops or desks is also an option using double-face tape, screws or clamps. The customization of screens is also available by size and mounting method as we

ll as the acrylic thickness. Additionally, depending on the size of the screen, logos and/or privacy graphics can be etched into the acrylic. For further integration into the environment's interior design, consider a shaped edge on the wellness screens.